The introduction of non-native species to any ecosystem can cause serious disruption of natural ecological processes.  Minnesota lakes have suffered from the unintended introductions of a number of foreign species, such as zebra mussels, spiny water fleas, curly-leaf pondweed, and numerous others to many lakes.  So far there are no indications of zebra mussels, the worst of the worst, in Hubbard County, but they are present in adjacent counties.  Zebra mussels proliferate rapidly, coating the bottom of lake with razor-sharp shells and fouling boat motors and docks and other solid structures.  The State of Minnesota has begun providing $10 million annually to fund boat inspectors in many counties, and Little Sand Lake is one of the beneficiaries.  Inspectors, hired and managed by our local SWCD (Soil and Water Conservation District), educate boaters about AIS and what they need to do to prevent inadvertent introduction of these pests to the lakes they fish or boat.  Contaminated boats are also directed to a decontamination station located near the Park Rapids transfer station.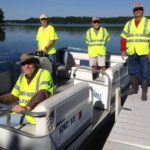 The Little Sand Lake Healthy Lakes Committee conducts periodic surveys of the lake during the summer to determine if various invasive plants are present.  To date all of the plant species we have found are native to the area and indicate healthy water conditions.  Residents are asked to hang small cinder blocks from their dock and inspect them periodically to see if there is any evidence of zebra mussels attaching.  These cinder blocks are available from the lake association or from COLA.
Reports
This section is for you to view all reports for Little Sand Lake, and surrounding lakes regarding aquatic species and public access reports.